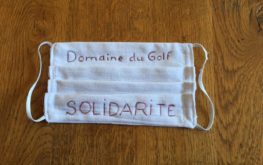 RE-Opening June 5, 2020 Dear customers of the Domaine du Golf,
We are all facing today a totally new and particularly complex period to live and organize.
Anxious to ensure your safety and that of our personnel, to protect the health of each and to respect the decisions and advice we had closed bookings  our Domaine du Golf resort.
We are happy to announce now the re-opening of bookinfs for tourism activities as of JUNE 5, 2020.A sanitary plan is already in place according to the national health services guidelines.
To answer your questions and your fears, our team remains mobilized and we refer you to the following links from our partner Ateya: https://ateya-vacances.fr/fr/Coronavirus and https://ateya-vacances.fr/fr/Conditions-d-annulation on which you will find useful information and answers to your questions.
However, we remain available at this address: resa@ateya.fr to answer all your questions, which we will try to deal with diligence, despite the complexity of organizing the work.
Our team remains mobilized to prepare your welcome as of June 5, 2020.
Until then take care of yourself and your family.
SAS Proprietaires  Domaine Golf and its representative Ateya both thank you for your understanding and guarantee you their energy to manage this situation as well as possible and provide you with the best service in welcoming you again @DDG.
Please accept, dear customers, our most sincere greetings.
On behalf of the SAS DDG.